CFW100 Mini Drive

The smallest Drive on the market.
The CFW100 covers power levels from 0.18 to 0.75 kW (0.25 to 1 HP).
Tutto ciò si traduce in bassi livelli di vibrazioni, versatilità di impiego e ridotta manutenzione.

Features and Benefits
Power range: 0.18 to 0.75 kW (0.25 to 1 HP)
Single-phase
Power supply voltage: 200-240 V
Scalar control (V/F) or vector control (VVW)
Overload capacity: 150% corrient in 60 sec.
External RFI Filter (accessory)
Ambient temperature -10 ºC to 50 ºC (14 °F to 122 °F)
All the electronic boards are conformally coated classified as 3C2 according to IEC 60721-3-3 standard
Protection Degree IP20
HMI with 2 Parameters built-in
SoftPLC function built-in
Flash memory module: In few seconds, it is possible to download the programming from a CFW100 to others without powering them up
Plug-in modules: I/Os, USB, Bluetooth®, Infrared and Fieldbus communication
Communication protocols: Modbus RTU (RS-485) and CANopen
WLP and SuperDrive G2 free software
Easy Configuration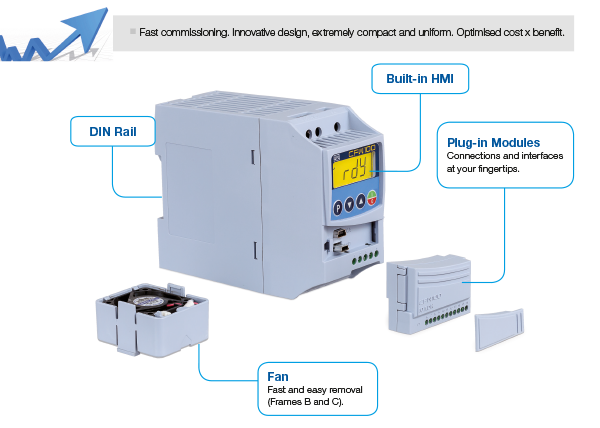 Human Machine Interface

Friendly Programming
Built-in HMI for the standard product
Oriented start-up: programming step by step
Remote HMI: Solution for panel door or machine console
Free Software
WLP (WEG Ladder Programmer)
The WLP or "Weg Ladder Programmer" is a software that allows the user to program using ladder language, command and monitoring. It is a powerful 32 bits tool that grants you characteristics and functionalities to create professional applications through simple mouse clicks.
Software Superdrive G2
SuperDrive G2 is a tool for parameter setting, command and monitoring of drives. With intention to make the use of drives as easy and convenient as possible, the software provides user-friendly viewing, manipulating, and editing data with the drive. The data can also be stored and retrieved.
Applications
Machinery
Centrifugal pumps
Process dosing pumps
Fans / exhausters
Stirrers / Mixers
Lift doors
Roller tables
Granulators/palletizers
Rotary flters
Small handling applications
| | |
| --- | --- |
| Certifications | Documents |